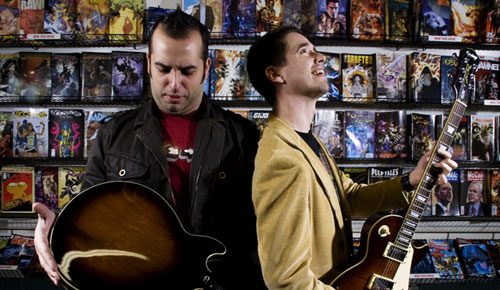 This Friday I'll be filling on bass for geekcore band Kirby Krackle. Clever, uptempo songs about comic books and video games. And yikes, our gig is at the Showbox at the Market.
KK is a joint venture between songwriter (and former Explone bassist!) Kyle Stevens and Seattle comic shop mogul Jim Demonakos, who also organizes the Emerald City ComicCon. Jim co-writes, Kyle records and performs, and fans delight to songs about Mario Kart and Benjamin Grimm. There's a HUGE writeup of the guys in this month's Seattle Sound magazine, which I can't link to because of course they use some lame Java thing.
Anyway, we've had two weeks of rehearsal cramming to get these songs in shape and it's been a lot of fun playing these tunes. Between KK and Explone I have to say I really dig being a sideman these days.